About MBA (Master of Business Administration)
MBA, which stands for Master of Business Administration, is a prestigious postgraduate degree that provides individuals with comprehensive knowledge and skills in various aspects of business management. It is designed to equip students with a strong foundation in core business disciplines and to develop their leadership, analytical, and critical-thinking abilities.
Here are some key points about MBA programs:
Curriculum: MBA programs typically cover a wide range of business subjects, including finance, marketing, operations, human resources, strategy, entrepreneurship, and organizational behavior. The curriculum is designed to provide students with a holistic understanding of how businesses operate and the challenges they face. Depending on the program, there may be elective courses or concentrations that allow students to specialize in specific areas of interest.
Duration and Formats: The duration of MBA programs can vary depending on the structure and format. Full-time MBA programs usually take two years to complete, while part-time programs can take longer, typically ranging from two to four years. Executive MBA (EMBA) programs are designed for experienced professionals and are often completed on a part-time basis over a period of one to two years. Some schools also offer accelerated or one-year MBA programs.
Admission Requirements: Admission to MBA programs is competitive, and the requirements can vary across institutions. Common prerequisites include a bachelor's degree from an accredited institution, work experience (though not always mandatory), competitive GMAT or GRE scores, letters of recommendation, essays or personal statements, and an interview. Some programs may also consider other factors like undergraduate GPA, leadership experience, and extracurricular involvement.
Networking Opportunities: One of the key benefits of pursuing an MBA is the opportunity to build a strong professional network. MBA programs often attract a diverse group of students with different backgrounds and experiences. Interacting with classmates, faculty, and alumni can provide valuable networking opportunities that can benefit students in their future careers.
Career Advancement and Opportunities: An MBA degree can significantly enhance career prospects and open doors to leadership positions in various industries. Graduates with an MBA often pursue careers in areas such as consulting, finance, marketing, entrepreneurship, operations, and general management. The degree is valued by employers for the broad skill set and business acumen it provides.
Return on Investment: Pursuing an MBA is a significant investment in terms of time, effort, and financial resources. While tuition fees can vary widely depending on the program and the institution, an MBA degree is generally considered to have a positive return on investment (ROI) over the long term. Graduates often experience increased earning potential and opportunities for career advancement.
Specializations and Concentrations: Many MBA programs offer specializations or concentrations that allow students to focus their studies on specific areas of interest. Some common specializations include finance, marketing, entrepreneurship, supply chain management, healthcare management, and information technology. Specializations can provide students with in-depth knowledge and skills in a particular field, making them more competitive in the job market.
Key Highlight for MBA Course
| | |
| --- | --- |
| Key Highlights | Description |
| Degree Title | Master of Business Administration (MBA) |
| Duration | Typically 2 years for full-time programs |
| Program Formats | Full-time, part-time, executive MBA (EMBA) |
| Core Disciplines | Finance, marketing, operations, human resources, strategy, etc. |
| Electives | Specializations available in various areas of business |
| Admission | Competitive; bachelor's degree, work experience, GMAT/GRE |
| Networking | Opportunities to build a strong professional network |
| Career Prospects | Increased opportunities for leadership positions |
| ROI | Generally considered positive over the long term |
| Specializations | Options available to focus studies on specific areas |
MBA Entrance Exams
| | |
| --- | --- |
| Entrance Exam | Description |
| GMAT (Graduate Management Admission Test) | Widely accepted for MBA admissions globally. Assesses analytical writing, integrated reasoning, quantitative, and verbal skills. |
| GRE (Graduate Record Examination) | Accepted by some MBA programs as an alternative to the GMAT. Measures verbal reasoning, quantitative reasoning, and analytical writing skills. |
| CAT (Common Admission Test) | Conducted in India for admission to prestigious MBA programs in Indian Institutes of Management (IIMs) and other top B-schools in India. Assesses quantitative aptitude, verbal ability, logical reasoning, and data interpretation. |
| MAT (Management Aptitude Test) | Conducted in India for admission to MBA programs in various management institutes. Tests candidates on language comprehension, mathematical skills, data analysis, and critical reasoning. |
| XAT (Xavier Aptitude Test) | Conducted by XLRI Jamshedpur in India. Accepted by several B-schools for admission. Assesses candidates' aptitude in verbal ability, quantitative ability, data interpretation, and reasoning. |
| NMAT (NMIMS Management Aptitude Test) | Conducted by the Graduate Management Admission Council (GMAC) for admission to NMIMS University and other B-schools. Assesses language skills, quantitative skills, and logical reasoning. |
| SNAP (Symbiosis National Aptitude Test) | Conducted by Symbiosis International University in India for admission to various MBA programs offered by Symbiosis institutes. Assesses candidates on general English, quantitative, data interpretation, and analytical reasoning. |
| IIFT (Indian Institute of Foreign Trade) Exam | Conducted by the Indian Institute of Foreign Trade for admission to its MBA programs in International Business. Tests candidates on English comprehension, logical reasoning, quantitative analysis, and general awareness. |
| TANCET (Tamil Nadu Common Entrance Test) | Conducted by Anna University, Chennai for admission to MBA programs in colleges affiliated with Anna University and other participating institutes in Tamil Nadu. Assesses candidates on verbal ability, quantitative aptitude, logical reasoning, and data interpretation. |
MBA Syllabus
MBA Specialization Syllabus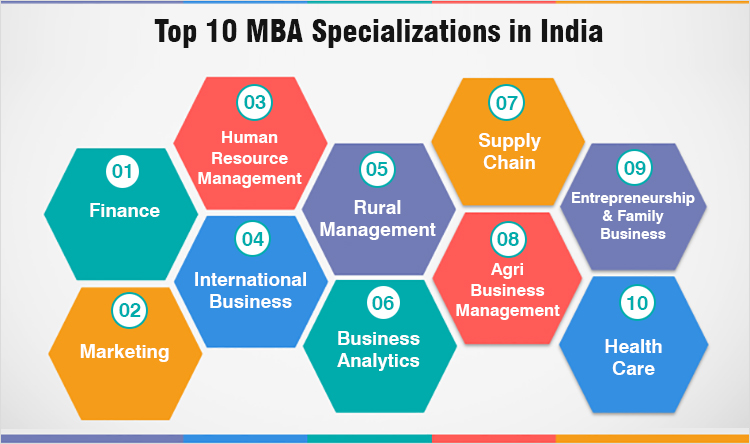 MBA Subjects
| | |
| --- | --- |
| 1st SEM | 2nd SEM |
| Corporate Social Responsibility | Macroeconomics |
| Microeconomics | Business Law |
| Principles of Marketing Management | Operations Management |
| Principles of Accounting | Optimization and Project Research |
| Tools and Framework of Decision Making | Corporate Finance |
| Quantitative Methods and Statistics | Project Management |
| Business Communication and Soft Skills | Marketing Management |
| Organizational Behaviour 1 | Organizational Behaviour 2 |
| 3rd SEM | 4st SEM |
| Supply Chain Management | Project Study |
| Financial Modelling | International Business Environment |
| Strategic Management | Strategic Management |
| Business Intelligence | Elective Course |
| Marketing Research | – |
| Managerial Economics | – |
| Corporate Governance and Business Ethics | – |
| Corporate Finance 2 | – |